ABOUT VIVIERS
Cradled amongst the gold mined caverns of 'The Origins of Humankind,' Johannesburg, VIVIERS originates conceptual and Earth-conscious clothing that are homegrown in South Africa, yet clothes that project ideas of universal Future Fossils.
VIVIERS's clothes could be considered a sculptural juxtaposition of sharp, traditional Masculine tailoring and more organically draped, flowy items, often associated with conventional femininity. The interplay and constant balancing act between these extremes are further explored through our mismatched fabric choices; Organic and natural fibres, directly offset by technical and industrial fabrics, like upcycled Nylon or reclaimed plastic. From faraway Japan to nearby Europe, VIVIERS blurs the liminal spaces between Sophistication, Disobedience, the Avant-Garde and time.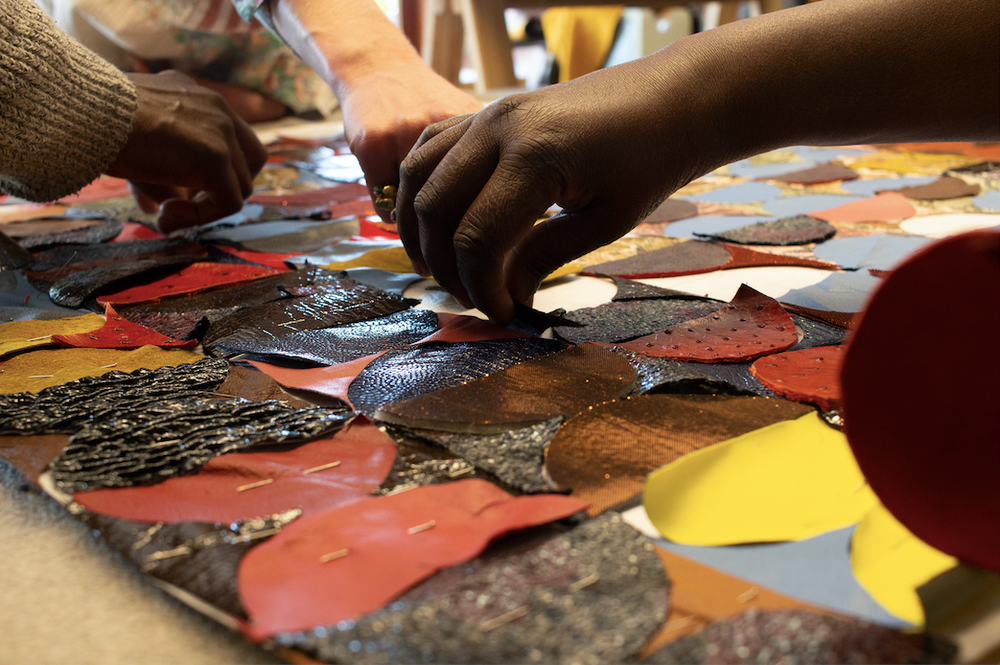 OUR MANIFESTO
VIVIERS places the hand of the artisan and artistic practice, at the top of the socially ethical pyramid. We believe that luxury and humanity are synonyms and should be the key focus to co-create a conscious and circular future in the industry.

Humans are dependent on Mother Nature for all of our resources. These resources are what luxury is; resources are gifts from life itself. The one hand washes the other, and beholds the other; we are because of one another. Our studio is rooted in co-existence and mutual respect; both for each other, our materials and how our actions affect the world and others around us. Our vision is to mirror the BEAUTY that surrounds us, our mission, and the demonstration of BEAUTY in the mundane, all through the language of clothes.
Read our full Manifesto
OUR STUDIO
GLASSHOUSE is the Flagship Store/Atelier and Creative Studio of VIVIERS.
In between crystalline walls, we invite you to come to partake and experience our sensual co- emerged studio and concept space. GLASSHOUSE, our Flagship space and incubation centre, the upgraded Motherboard of VIVIERS, is situated in Westcliff Johannesburg.

Our 'By-Appointment-Only,' Concept Space, allows individuals to experience a unique way of building and co-creating their wardrobe, with both our Bespoke and Made-to-Order, service.

The modular, crystal glass structure, was co-designed by Roelof van Wyk and Thomasshof and Partners before it was translated into the home of VIVIERS with the help of the JANG design duo.

GLASSHOUSE also exhibits our Signature Collection, which consists of our premium selection of wardrobe collectables and quiet luxury pieces.

VIVIERS garments are created by sculpting and drafting brown paper, unfolding them into new silhouettes. These paper prototypes are then further developed into Calico fabric, to test their comfort and functionality when worn, before finally being individually hand-cut into a combination of locally handcrafted textiles,(like weaving, knitting, marble and eco-dyed fabrics) combined with reclaimed couture textiles from disused luxury manufacturers. The hand-finishing and embellishment of each VIVIERS piece is our signature stamp of uniqueness.
Request an appointment